Daily Doses:
Currently Reading:
Good For My Eyes:
Sydney Opera House
To Name A Few:
Blogs About Books:
Awesome Authors:
Good For My Ears:
When I Have Time:
24 - Fox
Beauty and the Geek - CW
Lost - ABC
Family Guy - Fox
The Simpsons - Fox
I Love Lucy - Fox
Dear audit client.......
Wednesday, February 07, 2007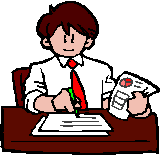 Here are some suggestions on how we can improve our auditor-client relationship:

1) Don't assume that just because I'm asking you a question, that something is wrong or that I'm accusing you of incorrectly accounting for something. Just relax and help me understand the process. Getting angry at me for asking questions only leads me to believe that you are hiding something.

2) Audits are usually done once a year. Therefore, I'm not going to remember every single thing that happened in the PY (prior year). You may do the same things every month, but I don't. Please try to understand that unless I've been your auditor for the last several years, I cannot possibly remember everything about your business.

3) If something hasn't changed from the PY to the CY, that does not mean I cannot look into it more in the current year. Does it occur to you that we don't catch EVERY single thing in our audits? I know it can be frustrating to explain something every year when the accounting methodology hasn't changed, but we do get new staff on our jobs. That's part of the industry, so please keep that in mind.

4) If you're a public company, try to understand this: you need us and we need you. Please stop with the "when are you auditors gonna leave already?" jokes. Haha, I get it, okay, you hate us. Let's laugh once about it, but not every single day. Suck it up. Again, you need us, and we need you.

5) Do not assume you are my one and only client year-round. I juggle several jobs at a time, so please try to understand that I cannot always respond in 15 minutes.


6) Do not lie to me. If you promise to deliver a schedule that you know you cannot get to us in time, just flippin say so. I'd rather you be upfront and honest about it than make promises you cannot keep, which result in me working extra on the weekends.

7) If you used to work for my firm and left public accounting several years ago, please do not tell me how to do my job and that you know how to audit better than I do. You have no idea how much has changed since you left. What may have been acceptable practice back then may or may not apply now.

8) Please please do not tell me what's immaterial from our standpoint. You do not have that information so who are you to tell me I shouldn't be looking at something that's $100,000? That might be immaterial for you, but not for me.

9) Please do not set the alarm while I am still working in your building late at night.

10) Follow the golden rule. Enough said.

Labels: Work related
posted by Daphne @ 10:32 PM


Who Is Daphne?
Name: Daphne
Home: California, United States
About Me: I love to read, especially romance books. I love to play, especially computer games and puzzles. I love to dance, especially lindy hop. I love my family and friends.
See my complete profile
Blogroll Me!
Other Romance Readers:
Well Hello There



Further Dissection
Other Cool Cats:
Other Obsessions:
YTMD
Sudoku
Swing Dancing
Gaming
Previous Post
Archives
Powered by